Wedding Hairstyles
Choosing Your Bridal Hairstyle
Are you confused over what will be the perfect wedding hairstyle for you?

Has thumbing through numerous magazines left you dazed, confused and overloaded with ideas?

Relax, here is information to help you make an informed choice about your bridal hair style.

You'll want to look and feel special on your wedding day, but don't lose your personal style identity when making your choice.

When it comes to your wedding hairdo, your number one guiding factor should be whether you actually like the style.

Make sure that you add discussing your wedding hairstyle with your stylist to your wedding checklist. This is best done some months from the big day - in fact the sooner the better.

Take a minute and consider what you what the theme or style of your wedding to be. Talk to your hairstylist as soon as you have decided on your overall theme - they can give you ideas on which hairstyle fits into your overall picture.

Bridal Hair and Bridal Gowns.
Think about the line, density and texture of your gown when choosing your wedding hairstyle. The line of the dress should match the line of the hair.... your wedding hairstyle should complement the texture of your gown.

Bridal Gowns Save On Beautiful Wedding Dress & Designer Bridal Gowns at 80% off.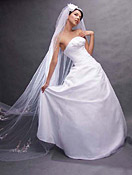 Divine Collection Wedding Dress - D056